Alexandria Evening Lions donate $1,000 to the WE GOT YOUR BACK CAMPAIGN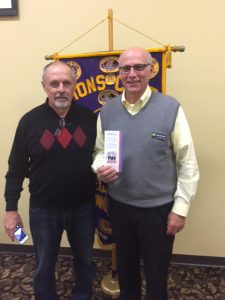 The WE GOT YOUR BACK CAMPAIGN is now in full swing! We Got Your Back is a community supported not for profit organization providing support of our law enforcement officials, fire department, Emergency Medical, and all those that put their lives on the line each and every day of their working lives, to protect and keep us safe.
The vision statement of the We Got Your Back Campaign includes:
1) The work done by our law enforcement officials is a vital part of the safety and security of our local communities, State, and Nation.
2) Law Enforcement personal, both men and women, are under constant scrutiny, at the same time, placing their lives on the line each and every day.
3) Law enforcement have families that fear the loss of their loved ones daily.
4) The respect for law enforcement starts in the home and not on the streets.
5) We the members of our community supporting the "WE GOT YOUR BACK CAMPAIGN" stand behind our law enforcement personal, and will honor , respect, teach, and support our men and women of these courageous professions, as much as humanly possible.
The WE GOT YOUR BACK CAMPAIGN is a community owned project being watched by several other parts of Minnesota. It is not unusual that Douglas County leads the way in innovation, support, and leadership when it comes to doing the right thing for the needs of our Community. WE NEED YOUR HELP! By making a tax deductible donation to WE GOT YOUR BACK, via the web site or mailing a check to WE GOT YOUR BACK, PO BOX 844, ALEXANDRIA, MN. 56308, YOU WILL BE PART OF PLACING BILL BOARDS IN OUR COMMUNITIES OF DOUGLAS COUTY AS WELL AS PLACING THEM ON I-94. Yard signs are also available on line as well as other merchandise. Let's all be in support of those that HAVE OUR BACKS!
Please consider your tax deductible online donation OR MAIL A CHECK TO" WE GOT YOUR BACK" PO BOX 844, ALEXANDRIA, MN. 56308